"Is this Lowell Hess, the artist?" So began my conversation with a man who until yesterday I knew only by his name and his excellent cartoon art from the fifties. After posting last friday I decided to do a Google Image Search for "Lowell Hess". It turned up no artwork by Hess, but a black and white photo of an amiable older gentleman was the first return.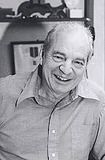 Clicking the link brought me to the website of a Florida-based greeting card company,
Graphics3Inc
, to the page describing a bit about the artist behind all their greeting card illustrations.
"Beneath the sheltering branches of a giant maple tree in a small seaside New England town, stands a saltbox home built in 1672. From his studio within, Lowell Hess conceives his award winning pop-up cards."
I contacted the company and enquired if this might be the same Lowell Hess who had done cartoon illustrations for many national magazines back in the fifties.
Hello Mr. Peng,
That would be Lowell. This email should reach him
Regards,
Bob Herlin Jr
I was stunned. I quickly fired off an email by way of introduction, then waited on pins and needles all weekend, but no reply came.
Next I searched for a Lowell Hess in an online New England phone directory, figuring there could be only relatively few people with that specific name. There was just one - in Connecticut. Yesterday afternoon I called the number. This week I'll share with you what I learned from speaking with Lowell Hess.